Historical/theological rant to follow...
The books I've been reading recently have caused me to think about how vital the big picture is. I say this somewhat tongue-in-cheek because I fully admit that I don't have the big picture on everything or the full picture on anything. But through reading books that take the time to give the broad historical and theological perspective, its hard not to get frustrated with arguments that don't look at the big picture.
As some may recall there were some, shall we say, interesting discussions on this blog a few months back regarding Biblical interpretation. The anonymous critics were claiming that there is no such thing as Biblical interpretation and we who claim there was were all deceived by Satan. Good times. Recently as I was reading
Hagar, Sarah, and their Children
I was struck again by the absurdity of that claim. Besides the interpretive perspectives presented in the book on the story of Sarah and Hagar (from Christian Jewish, Muslim, Feminist, and Womanist viewpoints), the editors gave a brillant overview of the history of the interpretation of their story. Even though their story is a narrative (and supposedly straightforward history), there exists a wide variety of interpretations. Throughout the ages the motives of both Sarah and Hagar have been interpreted, reinterpreted, and then interpreted some more. Even by the Apostle Paul in Galatians. I'm sorry, but a "literal" (meaning here, the interpretation done by those who don't believe in interpretation) reading of the story in Genesis does not give you Galatians 4:25 - "Now Hagar stands for Mount Sinai in Arabia and corresponds to the present city of Jerusalem, because she is in slavery with her children." - that takes interpretation. And if it was good enough for the Apostle Paul... And it didn't stop there. There is a whole tradition of
Jewish Midrash
on this story (an interpretative approach that assumes the validity of multiple interpretations). Some of the early church fathers took the Hagar and Sarah story to refer to monogamy, chastity, and asceticism. Luther and Calvin had their own assumptions about what Sarah must really have felt/meant. The list goes on. It was fascinating (and at times appalling) to read those interpretations, but what really struck me was the necessity of the historical perspective. It is so easy to get stuck in one's own tunnel vision if one refuses to engage the big picture (and yes, that is a lesson I am still learning).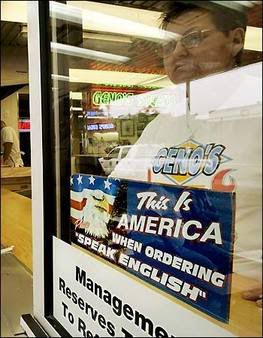 On a different topic, my recent reading of
Empires of the Word: A Language History of the World
by Nicholas Ostler has made me even less sympathetic to the English only proponents. The idea that English needs to be made a national language or passing laws to ban the use of other languages in certain towns or businesses has its own issues (racism, classism, and fear to name a few), but such views also seriously lack a grasp of the big picture. Even if one ignores the fact that we used pre-emptive war to steal this country from people whose languages we are now trying to ban, we forget what a pitifully short history English has had. It is doubted by historians if English would have ever have developed as a language in its own right is the Plague hadn't of wiped out most of the Norman speakers in what is now England. A coincidence of the rich who lived in towns being wiped out and the poor who cobbled a language from their combined ancestors and overlords and lived isolated on farms survived. Compared to the histories of Egyptian, Sanskrit, and Chinese, English is very new to the scene.
I personally don't get the mentality that there is pride to be had and defended in the language one was taught in the cradle. It is one among thousands. But for an egotistical society driven by competition and the need to chant mindlessly "We're number 1! We're number 1!", language is just one more thing to fight about. This is of course nothing new. The Greeks despised anyone who couldn't speak their language. The Spanish Crown (against the advice and pleading of the Priests) insisted that the natives in the "New World" learn Castilian since they couldn't understand matters of faith and manners of life otherwise. We've all heard (and laughed) at the stories of French trying to keep itself pure. I was fascinated by these quotes by Ostler regarding the French language, "In the seventeenth century, French power and influence in Europe reached their height... as all nations do when they enjoy pre-eminence, the French began to look for some particular virtues that could explain their success. Increasingly, they saw evidence of excellence in their language itself." and "It was especially in the areas of Europe with least cultural self-confidence that the elite set a high value on fluency in French: Sweden, Poland and above all Russia.. French became established as the language of polite society." (p.409-410). And that hubris remains to this day, and has been caught by the English speakers.
I don't even want to get into the whole KJV only English is God's chosen language to spread His word in the end times claim. But the ignorance of people as to the brief history of this language is absurd. People really do believe that Jesus spoke English or at least think English sprung fully formed out of God's mouth. In a discussion in one of my liguistic/intercultutral studies/missions classes about proscriptive verses descriptive grammar in English, a man actually argued that English can never change because it has never changed. I wished I could have broken out with something like - "Hwæt! We Gardena in geardagum,þeodcyninga, þrym gefrunon,hu ða æþelingas ellen fremedon. Oft Scyld Scefing sceaþena þreatum." (the opening to Beowulf in Old English) or "How grett glorious Godd, thurgh grace of Hym seluen, And the precyous prayere of Hys prys Modyr, Schelde vs fro schamesdede and synfull werkes, And gyffe vs grace to gye and gouerne vs here, In this wrechyd werld, thorowe vertous lywynge, That we may kayre til Hys courte, the kyngdom of Hevyne." (our lywynge in middle English poetry). No, of course English has never changed...
If people had a bit of perspective, a glimpse of the big picture, would such hateful and hurtful programs like the English only ones ever be introduced? I know I'm naive and idealistic, but I just wish people could see how small these petty arguments are in light of the big picture.
Rant over for the moment. Or perhaps, fittingly, I should end with Caliban's words to Prosperso - "You taught me language; and my profit on't/ Is, I know how to curse."
Labels: Book Reviews, Culture, Theology